It's the virtual equivalent to someone dropping off the keys to a massive vintage studio. Version 8 leads with new retro additions, a vocoder, and various improvements and features suite-wide.
And that's really a lot of the appeal of Arturia's V Collection. It has so much inside that you almost don't need to think about it. You just get a little bit of everything – so much so that you could feel like you're stuck for ideas, and randomly decide on some classic instrument and Arturia has an extensive version of it just waiting in their installer. Or you pick up a magazine article about a favorite historic track and get reminded that way. (Someone I'm sure goes and installs the whole set at once; I usually don't, partly to save on hard drive space, but mainly because… it's overwhelming. It's almost too much power.)
And even with Roland making their back catalog available in Roland Cloud, and Native Instruments with their broad Komplete, there's simply nothing quite like Arturia's V Collection for presenting all these vintage recreations as is – a massive historic library.
So, okay, what does 8 bring to the table? (This will confusing to the uninitiated, so clarification first. V is virtual, not "five." 8 is the version number. You'll see a lot of V's.)
New instruments (3 surprises + 1 not-a-surprise)
You get 3 new things you've never seen before + 1 recently new thing added to the bundle + 2 upgrades to existing instruments… and 700 new patches. Let's break it down.
There are four new instruments in there. They can't say what the original brands were, but I can. One of them we did see back in May – the OB-Xa I gave an extensive review. It's not the only Oberheim recreation, but it is perhaps the deepest and broadest.
Source: Oberheim OB-Xa (and bits of the 1979 OB-X)
Year: 1980
Type: 8-voice analog polyphonic synth
The others are pretty big would-be hits, too. And while a lot of software developers are covering the same ground, the E-MU recreation and retro vocoder have the potential to be a bit more of a draw even relative to other options.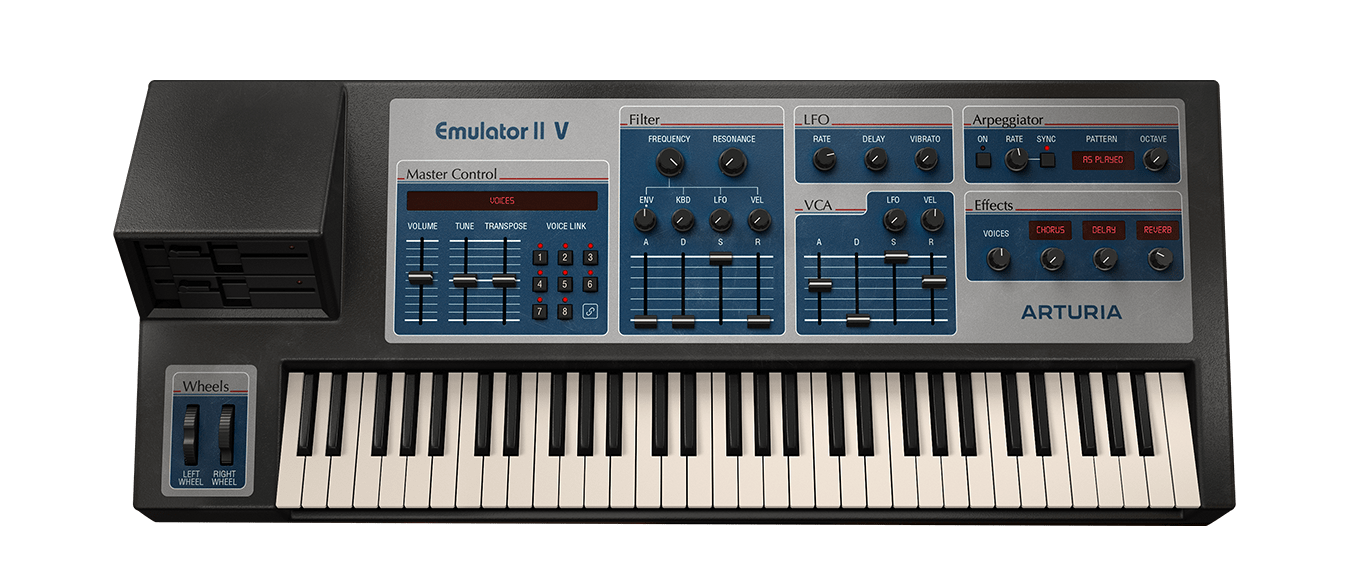 Emulator II V gives your samples some lo-fi character, while staying playable. It's certainly an interesting historical recreation – though there are a few Dave Rossum creations I wouldn't mind seeing in software.
Source: E-MU Emulator II
Year: 1984
Type: 27.7 kHz, 8-bit sampling instrument
Dave Rossum's work on E-MU is really coming into its own – as we work out in the 2020s what all that digital design from the 80s, 90s, and start of the 21st century meant. And I'm personally excited to hear Dave talk about the Emulator II. I think it'll be worth exploring in depth.
(PS, the other important thing to know about Dave is that he's still designing – check the excellent Sound Semiconductor chips, which continue the legacy of the unique architectures that produced so much of the sound of synth history, in a newly-produced chip.)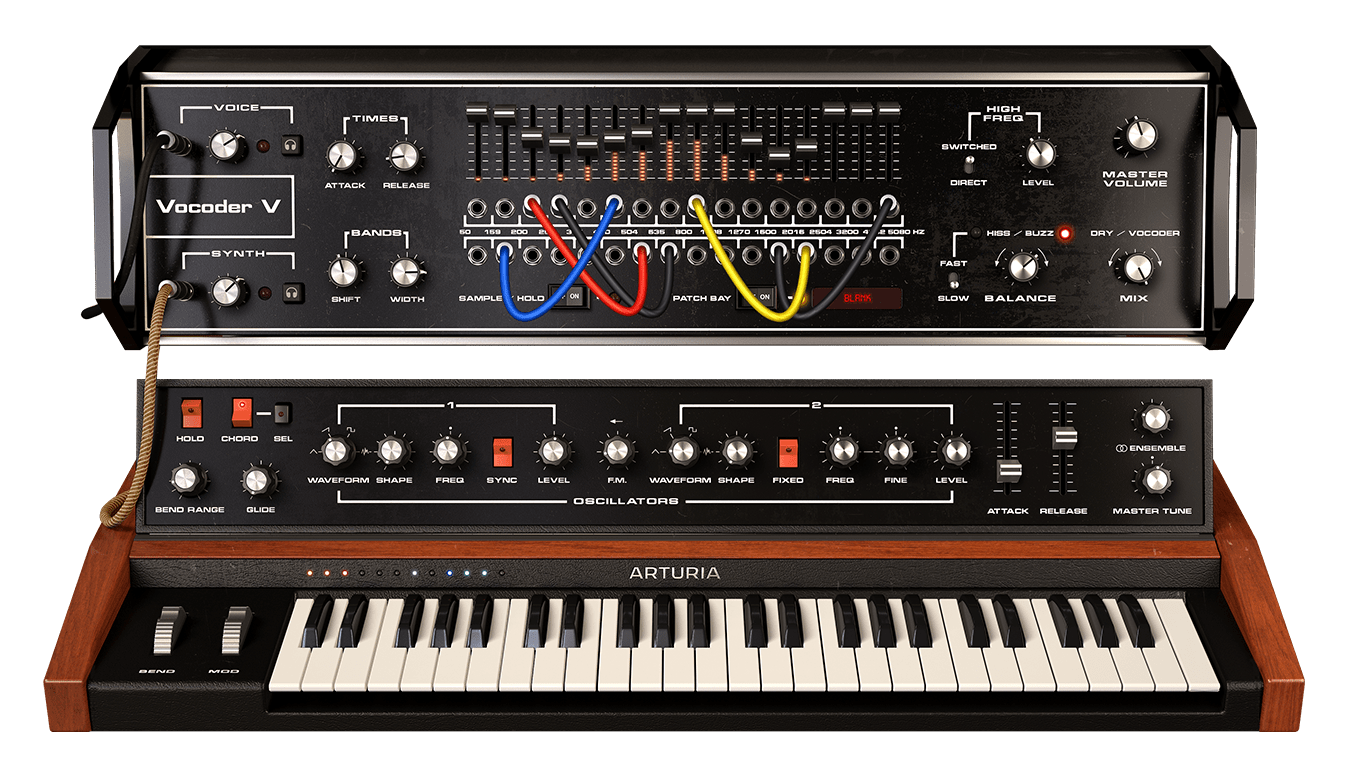 Vocoder V is both a vocoder and and an effect, with built-in sample playback capabilities. So you can sing into it, or use it as a synth, or apply it as an effect – or a combination of all three.
And of the whole range here, this is the only one that is actively still produced – as a hardware creation, from Moog Music. That version from Moog costs as much as a decent used hatchback, though (a cool five grand street). And I do see some twists here – this is also way up in priority for my review (this and the E-MU remake).
Source: Moog Vocoder (designed by Bob Moog himself)
Year: 1978
Type: 16-band vocoder
And tutorial – though they do say this is 'original' so I wonder if what they've done is just ape the Moog look but done something different. Full look soon: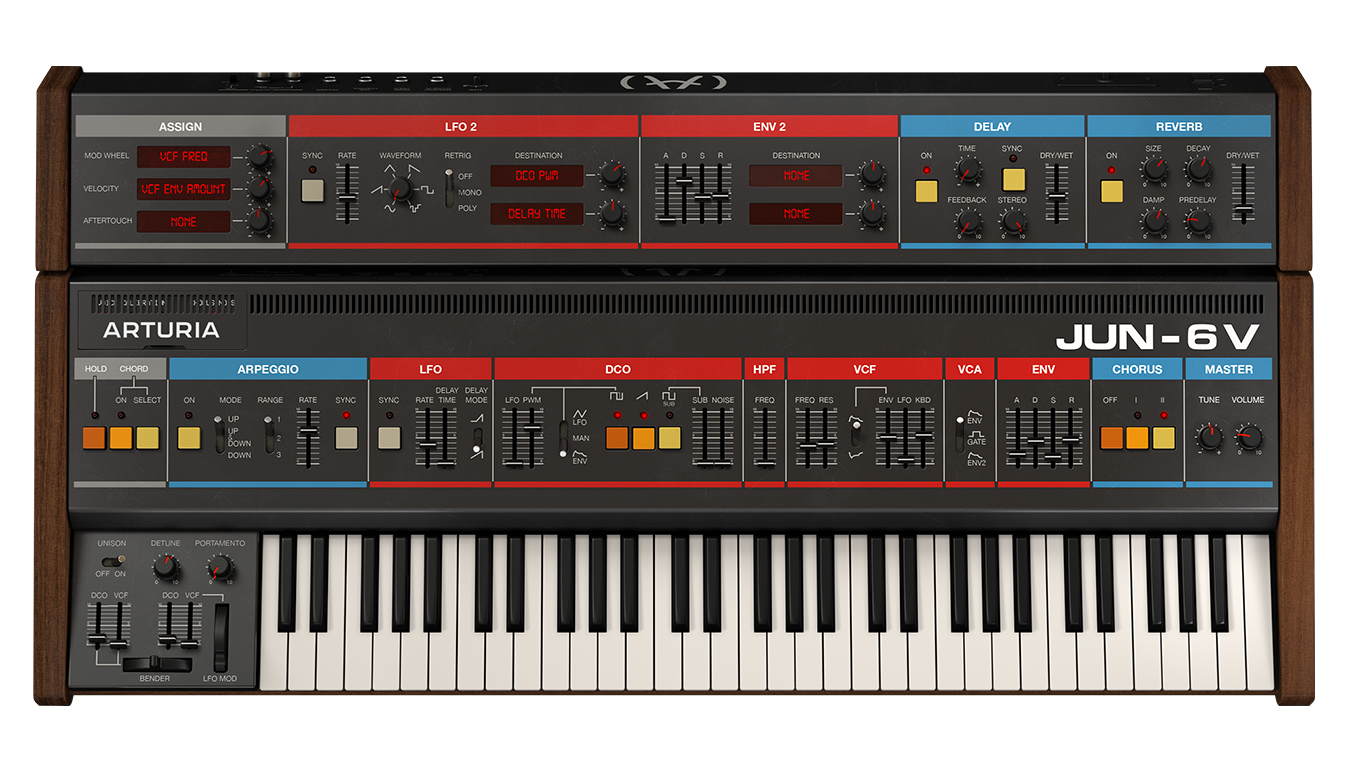 Jun-6 V is obviously a remake of the Roland classic – digitally-controlled analog. Iconic, essential. The one edge the Roland recreation gives you is the ability to run their stuff as hardware as well as software. But Arturia's software tends to be more modern onscreen, and we'll have to see how the features line up here. I can absolutely imagine using this on a screen even when using the Boutique from Roland in hardware – both.
Source: Roland JUNO-6
Year: 1982
Type: 6-voice analog polysynth
Upgraded instruments (2)
Some existing V Collection library instruments get an update here.
Stage-73 V2 is a physically modeled recreation of a number of Rhodes piano models. V2 is a huge upgrade, with its own integrated pedal rig and loads of customization and other features.
And just as importantly, Arturia say they've completely reworked the physical modeling for more accuracy and expressive playability.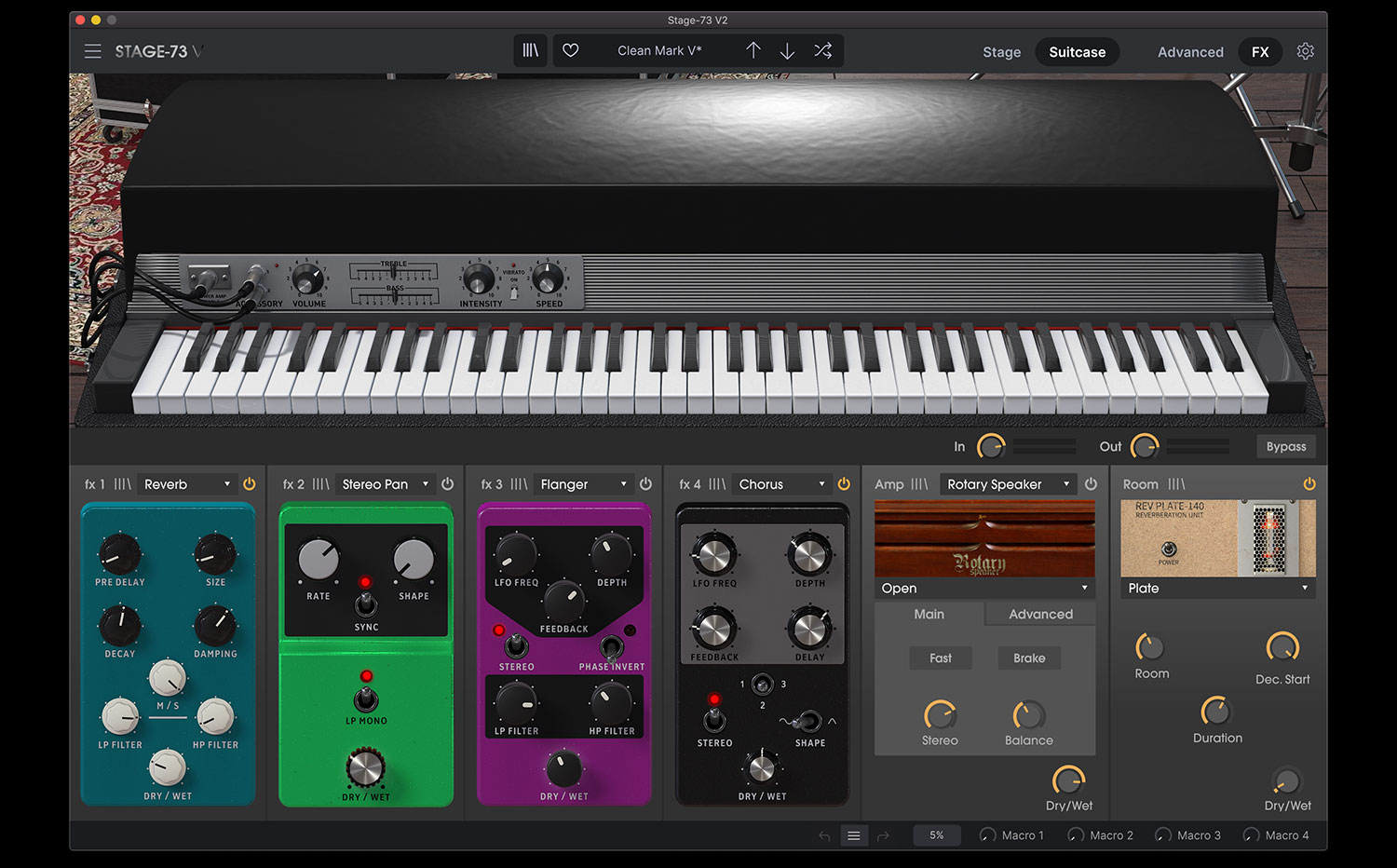 In addition to that new JUNO, the Jupiter-8 – erm, sorry, "Jup-8" also got a second look in V 8. It was a solid remake to begin with, but the new version is redone with Arturia's latest DSP – so expect better, more authentic sound. Plus on the less-authentic but potentially interesting side, it also gets all that new Arturia modulation and sequencing stuff.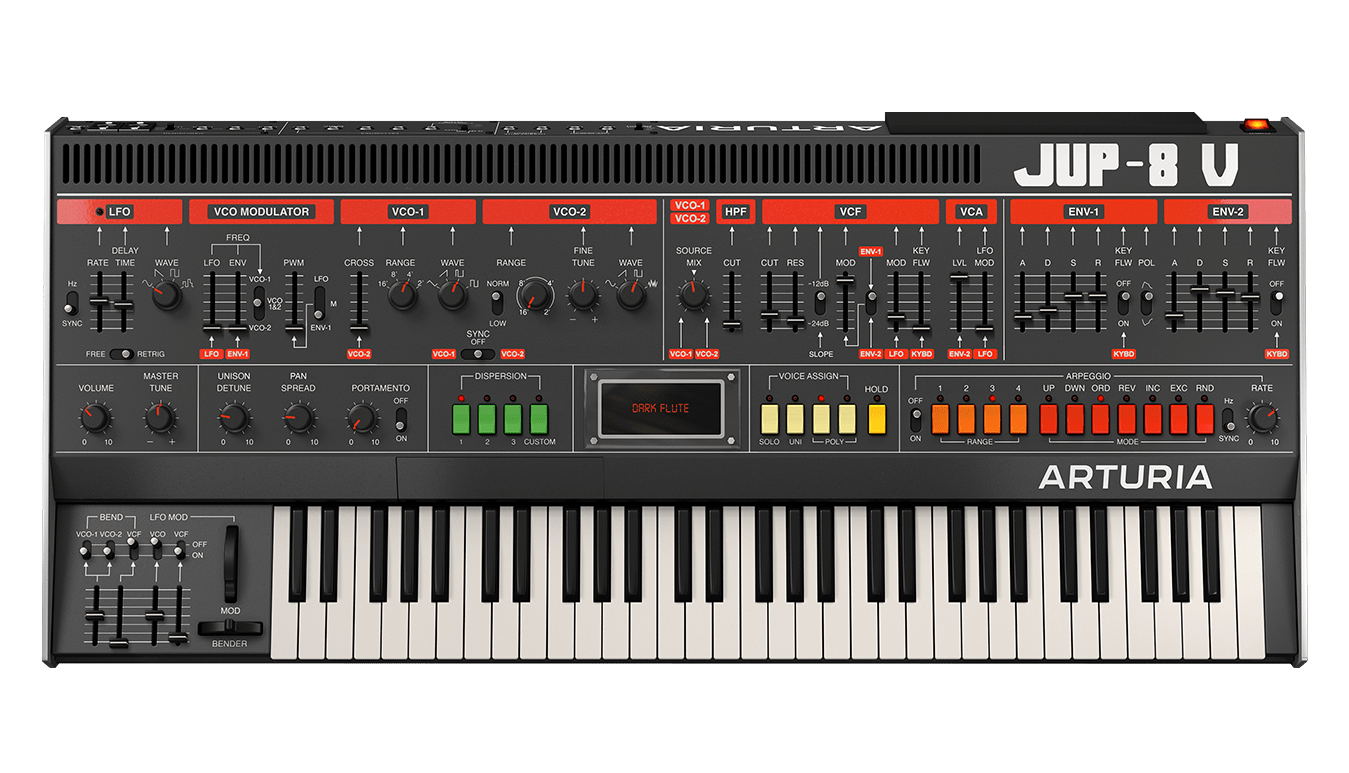 New Analog Lab hub, new stuff for all instruments
For quick access to presets and a useful library of what's in there – plus an easy starting place for beginners – Analog Lab V is an all-new take on this single hub. It looks really clean and useful relative to the original, at least at first glance.
It's got a new GUI, browser, macros (which work now across all instruments), and playlists for organizing presets – sort of a very basic MainStage for Arturia stuff, if you like.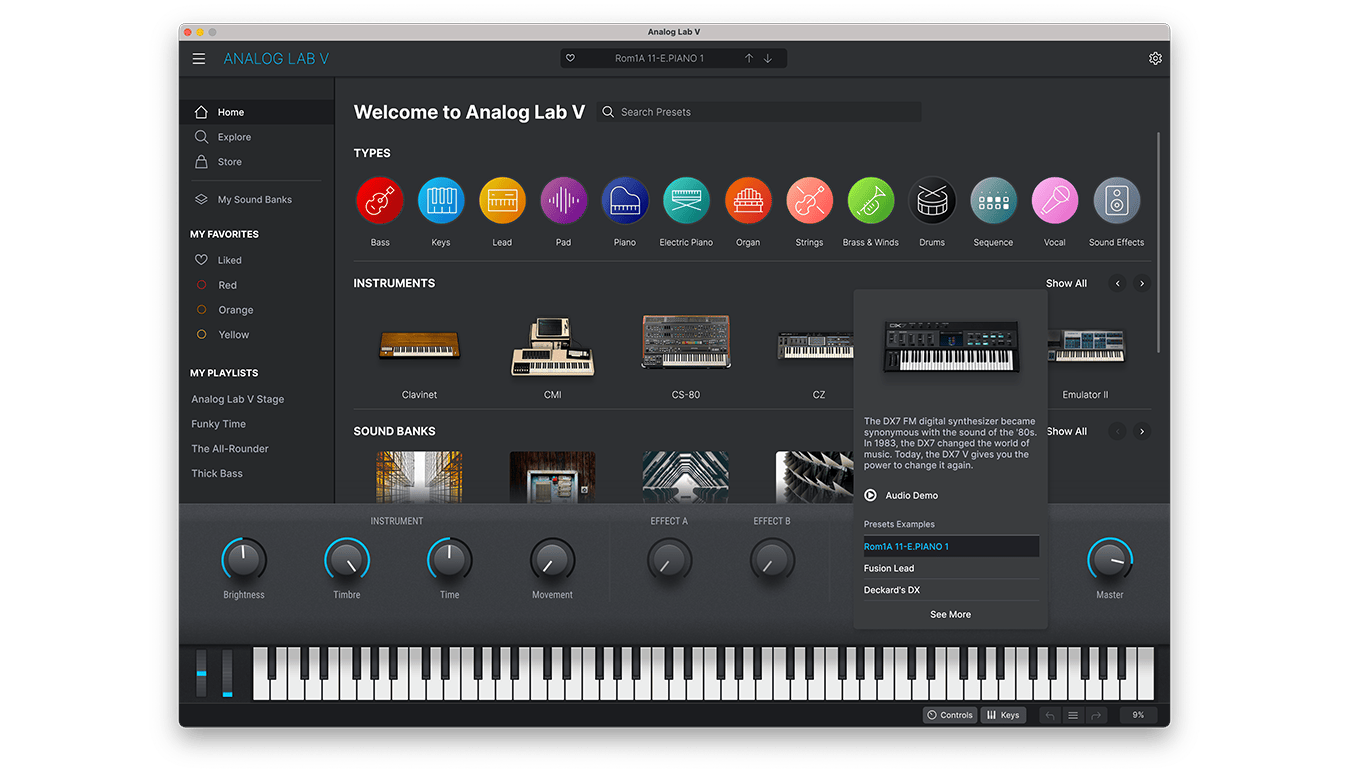 The common features across the whole suite are also important:
New preset browser
New right-toolbar
New in-app tutorials
Macros with 4 macros pre-mapped
MIDI control
Having four macros across the whole range means there's always something to tweak.
Of course, as always, if you don't want the full suite, these individual instruments are available a la carte – as is the new Analog Lab V (which replaces the now-discontinued Analog Lab).
Here's everything:
https://www.arturia.com/products/analog-classics/v-collection/overview#en
What isn't here is – no word yet on Apple Silicon support. (Asking about that.) And NKS support is lagging a bit, too – "NKS compatibility currently unavailable for Analog Lab V, Vocoder V, Emulator II V, Jun-6 V, Jup-8 V4 and Stage-73 V2."
But otherwise, it's relatively compatible – Windows 8.1 or later, macOS 10.13 or later, 64-bit standalone, VST, AAX, and AU (Mac).
Let us know what you want to know while we take this for a test drive.