The cult classic Sonic Potions LXR-01 kit finally gets a worthy follow-up – the LXR-02, made in collaboration with Erica Synths. It's a digital drum synth + FX + sequencer in one very compact unit.
The LXR-02, like the DIY-only LXR-01 before it, has a lot going for it. It's really, really compact – I have one sitting right here – fitting nicely under your palm. But whereas other compact units are knobs-only, you still get individual faders for each of six voices.
It's a drum synth, it's a synth synth, it's full of wonderful and unique sounds. It isn't an x0x Roland thing, but it can techno and whatnot, or go somewhere else altogether and get ambient and experimental. It's – just when we need it most – something different. Erica did this wonderful demo just to prove that:
News leaked unintentionally last month, but now we have full details. I'm finshing up my full review based on a recently updated firmware – I'm writing words, for those who still like those, along with some sounds. But I thought I'd go ahead and get the news up and some comparisons to the original LXR-01 so you can ask questions about what you might like to know while I polish this off.
What's clever here, apart from the size, is that you get a sound engine with six different dedicated synth instruments. So, while we have plenty of sample-playback drums out there and models or reproductions of some analog classics, this lets you experiment with a wider sound palette and actual synthesis.
Full specs from Erica:
6 drum voices
Powerful sound design engine
Over 30 adjustable parameters per voice
Voice volume sliders
Insert FX section
4 assignable 6,3″ jack outputs (2x stereo or 4x mono)
Full-size MIDI in/out
Flexible, performance-oriented 64 step sequencer
Performance mode with mutes, rolls, master bit-crush, and kit morphing
Kit, Pattern, Performance, and Song memory
SD card for easy FW updates and Project backup
USB MIDI
Headphone output
Extensive MIDI implementation
Durable and compact aluminium casing
And they're now taking orders, shipping this month – if you need some drums in your summer (or southern hemisphere winter).
The price is also appealing – 490 EUR / MAP US$599 means this is a boutique instrument that's still in the same price range as that mass-market stuff.
They've also retained the general look and arrangement of the LXR-01, seen here: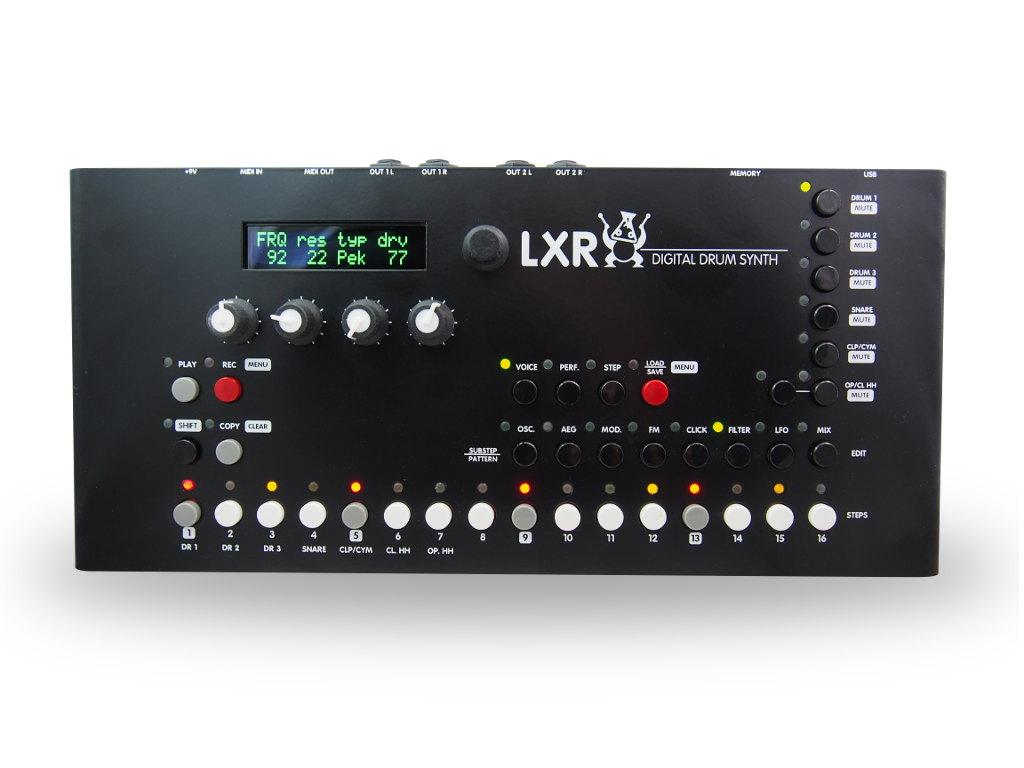 But taking that 6-voice architecture, refining its functionality, making it even more compact and adding faders – all in something that is ready-made rather than kit-only – is terrific.
The LXR-02 doesn't feature 6 outs, but with four outs total and assignability, that's hardly a demerit – and it still leaves room on this compact design for dedicated analog clock in and out (and rest), an SD card, MIDI in and out, and USB connectivity.
Red Means Recording have done a video walkthrough:
So, got questions? What do you want to know? Let me know and I'll have a look. Also, you can try to dare me to do a livestream performance and Q&A with this; I might be up for that.
https://www.ericasynths.lv/news/drum-synthesizer-lxr-02/