The worlds of gaming, "play," and electronic music have always been in an extended flirtation. A deep collaboration between Capcom and Teenage Engineering brings those worlds together and lets you VJ with classic games.
The download is free, pouring supersaturated pixel goodness from Capcom classics into a live 3D engine you can play in time with the synth. But apart from eye candy for lovers of Mega Man and Street Fighter, there is a statement here – a partnership between the Swedish and Japanese teams that fuses game and music aesthetics.
The OP-Z app has the videopaks ready to go – with support for iOS, Android, and macOS all three:
https://teenage.engineering/products/op-z/videolab/capcom
I got a chance to talk with the teams at Capcom and Teenage Engineering, so I think it's worth exploring some background.
From the beginning, Teenage Engineering's creators were toying with a connection between gaming and electronic music. It's an attitude that frankly, some traditionalists hate. The OP-1, and the OP-Z even more so, resemble nothing if not luxury game controllers or consumer electronics. (That particular futuristic design is also to blame for the OP-1 being a rarified purchase these days, even after an anniversary price cut. The OP-Z is not outrageously expensive for its functionality, but it lacks the design cues – wood endcaps and oversized knobs – that connote value to conservative European and US synth fans, and it isn't produced in Nintendo volume, so don't expect Switch-like prices.)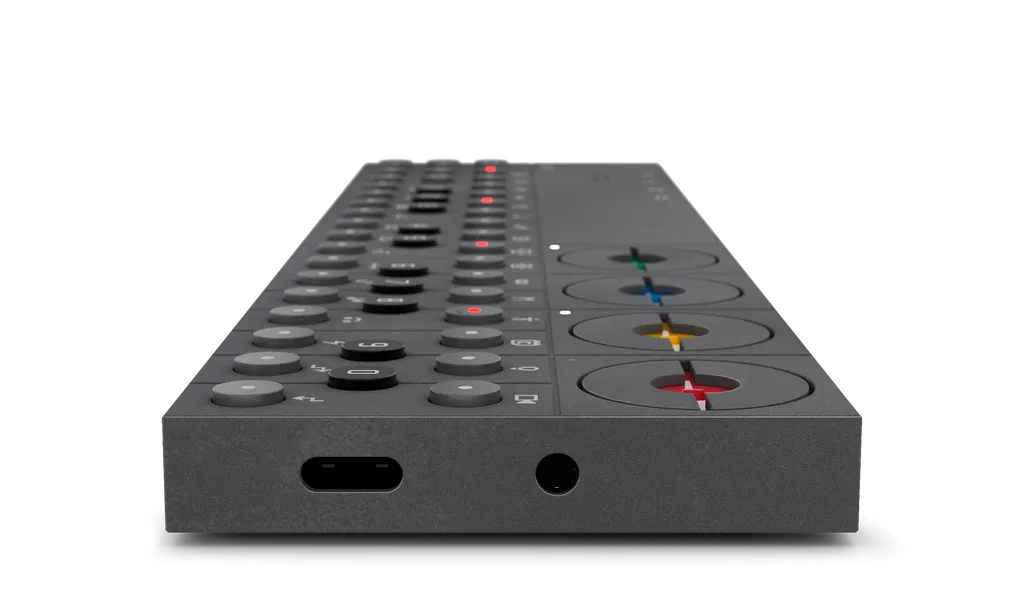 To Teenage Engineering's fans, though, this is the soul of the experience. From the Game & Watch-inspired Pocket Operators to the OP line to even the simplified modular, Teenage courts musicians with kick-combo finger dexterity. Minimalism serves a purpose – real portability and focus. The sound engines are shameless in chip music, digital-punk aesthetics – ragged-edged by design. They don't emulate a game system; they simply incorporate the push-button, digital lo-fi characteristics of them in original instruments.
But it's also important to understand that these are instruments designed by people who have worked both in audio and gaming.
David Möllerstedt, the Teenagers' VP of engineering who has led a lot of the work on these instruments, has a dual life both as an audio programmer at Elektron (of machinedrum fame), and working on audio at gaming giant Electronic Arts. So too was his colleague Jonas Åberg, who also came to TE from EA DICE. (There they worked on software and audio for the likes of Mirrors Edge and Battlefield as well as the ground-breaking Frostbite gaming engine.)
That says a lot – not only about dual passions, but about the engineering that makes both gaming and music machines tick.
These collaborations aren't licensing deals hashed up by marketing – they grew organically out of connections between skilled doers on both sides.
The story goes like this – David wrote an email (shared with CDM) cold-calling Tomoya Kishi (via LinkedIn, no less) who runs Capcom's audio department. What began as just a simple request to license some voice samples and sound effects for the OP-1 drum kits turned into an extensive media archaeology project and longer-running collaboration and partnership between the Stockholm- and Osaka-based companies.
Tomoya-san tells CDM he went deep into Capcom's archives, digging out long-lost pieces of the soundtracks of Street Fighter and Mega Man. He showed us a big pile of DAT recordings, and even located alternative takes.
Audio producer YuBo Hua from Capcom's audio department also spoke to us about the process. I wrote about the end result late last year:
The leap to visuals, though, for me really makes this blend of gaming and music come alive.
With the oplab module for the OP-Z, you can add additional I/O including the ability to sync to analog gear or MIDI. Of course, you can also just free-clock the visuals and music.
The Capcom videopak is built in Unity engine, with an open source toolkit Teenage Engineering have made that lets you produce your own content.
https://github.com/teenageengineering/videolab
In that 3D/2D hybrid world, all these Capcom assets take on a new life – a fever-dream in three dimensions of playing too much Street Fighter.
It's also the opposite of the elitist digital art phenomena at the moment. This is just free stuff you load on an app, made in free tools, designed to just project on a wall of a club or play at a house party or entertaining yourself lounging in bed. It's just the sort of AV/VJ culture we might need when we're all able to gather again. (Japan I see just went on another lockdown – seeing images of a blacked-out scramble in Shibuya – so strength to you all, too.)
And it's just beautiful to behold – perfect for anyone who will gaze into game art or watch an arcade machine's demo loop with as much joy as playing.
But I hope it's all a sign of more to come. During the pandemic, gaming and "bedroom" production have been two sources of solace in a dark time. They've grown explosively across cultures and age groups, reigniting childhood passtimes and bringing people to new discoveries. Sometimes, they've been the only place to meet.
So OP-Z or otherwise – remember, that Unity stuff you can download for free even without hardware – I do imagine that this medium could be a way to light up gatherings as we slowly come together again. Gaming embodies a different idea – one where everyone is free to have fun – and that's a principle I think could be welcome in music, too.
Of course, if you disagree, you had better fight me. I hope you remember the combos.
And check out these great in-depth interviews earlier on in Tomoya-san's time at Capcom, from our friends at Designing Sound:
https://designingsound.org/2014/04/23/audio-interviewing-audio-tomoya-kishi-and-kenneth-young/
https://designingsound.org/2013/02/11/capcom-audio-director-tomoya-kishi-interview/